Baseball: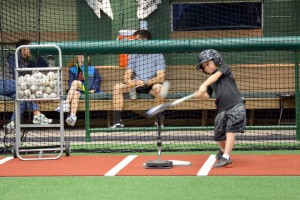 "Thanks Corey and JT for all the time you have taken out with Jadon. His batting has improved 100 percent. Corey you have not only provided professional instruction training, but you have been a great mentor for Jadon helping to develop his character, sportsmanship, and self-confidence." – Tracy

---
"4 games 3 home runs 1 grand slam! Thank you JT and Corey!" – Lucas DeSantis, Colorado Academy High School Senior
---
"As a head coach and director of golden competitive softball ( sweet cleats ) we were very please with the lessons that or teams received while going to your facility. ….. Corey and JT were great with our girls …..couldn't ask for a more state of the art facility. ….. Thank you and we look forward to keep working with you guys for years to come" – Tony Zamora

---
"Hey, JT… just thought I'd give you an update. Anthony's on an absolute tear, and is now leading the team in every offensive category (avg, slugging pct, OBP, rbi's, walks, HR's)… the keys to his success at the plate are his swing plane and hip and hand explosion through the ball (the things you worked on with him, the last time he was in), and his exaggerated leg kick/load has led to more power, better timing, and him being much more relaxed at the plate (plenty of 'swagger'). He's doing his mirror/dry swings about 5 days/week, and it's been a HUGE help for him." -Gregg Hirsh
---
JT and Corey,
"I love my son!  He is a great kid.   However, he lacks self confidence and his self esteem is less than awesome!  As a parent I just want him to be happy.  He needed a success.  Once a kid ever gets one success they "think" they can achieve the next thing and it snowballs into a chain of successes.  Half the battle is thinking you can do something.  Once a kid "thinks" they can achieve they will not stop trying until they do but with kids like my boy they are often defeated before they start.
Wednesday night my boy hit a double!  He was so proud! There are no words for what that single act of hitting a ball with a bat did for his overall self image.  I know it's a game and honestly I don't even like baseball but this "game" translates into success in other areas of his life!  I wish you could have seen him standing there on 2nd.  The crowd was wild! He was literally dancing! His entire demeanor transformed in that moment and its because of the two of you!  Now he thinks he can do this. He thinks he is Todd Helton! He thinks he is an awesome kid!" – Stephanie
---
"JT, Scott, & Corey,
Just wanted to drop you a note and let you know how much I appreciate you guys opening the facility to me and my brother Cody. 

You guys have the best training facility in Denver for professional athletes. The video equipment you guys use is especially helpful. Just a quick update on Cody: he was recently featured in Baseball America as a top prospect. You can read more here. Again, can't thank you guys enough and I'll make sure to keep you updated on Cody's progress." – Pat Farrell, Former New York Met / Cody Farrell, University of Texas Arlington
---
"Catalyst Sports really works hard to make you a better athlete and a better person. I've been coming here for lessons for about a year and I wouldn't change anthing!" – George Hurlbert, Senior at Lakewood High School
---
"This past weekend I played awesoome!  I played 5 games and I only got out once! The one time I did get out, it was a line drive to third base (she got lucky).  I also had a good eye, I walked a few times, ran fast and slid fast.  I've been working with the guys down at catalyst every week, for about a year now and they're a big reason why I'm improving every game."   –Jessica Mulkins, Freshman at Golden High School
---
Fitness Testimonials:
"Catalyst Fitness has improving my cycling exponentially. All of the interval training and core work is really starting to pay off!" – Kathy Imes

(Evergreen)
---
"I wish I was in this kind of shape when I was playing college baseball. Thanks, Catalyst!" – Dave Holland, Former Regis Baseball Alumni (Littleton)

---
 "Best 1 hour workout around. Ideal for athletes who are trying to achieve maximum performance and limit injuries. This full body workout will push your body to the extreme each and every day. JT, Scott, and Corey will test your limits and encourage you to be your best with a positive attitude." – Sean Imes (Evergreen)

---
"Catalyst is such an awesome place to workout. JT, Corey & Scott are such great coaches.  The workout is different every time. I am now getting addicted to working out. It has changed my life TREMENDOUSLY! I feel that I have so much more energy, power, control and strength. My mind is now connected to my body. I never imagined it would be fun to work out! – Lisa Mason (Evergreen)
---
"The best workout 10 minutes from Denver!" – Joey Wheeler (Wheat Ridge)
---